Fire Damage Repair
Residential & Commercial Fire & Smoke Damage Restoration
Turn your fire damage into a success story
Quality fire damage repair services from a local general contractor you can trust to restore your investment to it's original condition.
Emergency Fire Board-Up
Technicians dispatched locally 24/7 with 1 hour immediate response to secure your property from further loss and assist in the repairs.
Pack-Out & Content Restoration
Careful removal and securing of damaged household goods, personal possessions and other contents for cleaning and restoration.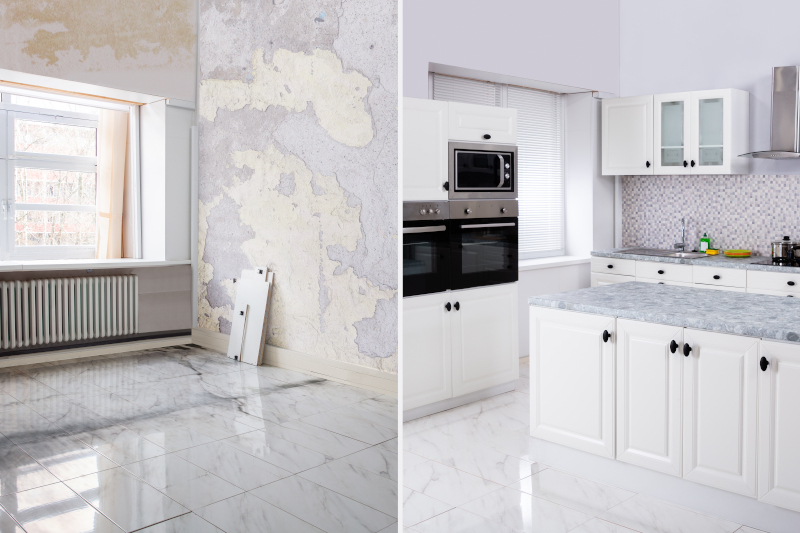 Reconstruction & Repair
Restoring your fire damage to its original condition using like kind quality or better material. Restore your investment.
After The Fire
This quick, high quality video goes over our fire damage restoration service.
Protect your Property. Restore your Investment.
Transforming your Fire Damage into a home.
Our staff will offer you peace of mind knowing your property will be restored to it's original condition.
Request consultation Now!
Frequently Asked Questions
What is fire damage repair?
Our fire damage repair services include emergency board-up and temporary services, demolition, and complete reconstruction, restoring your loss to it's original condition.
I had a structure fire when do I call you?
In an emergency relocate to a safe location and call 9-1-1. After you are safe immediately contact us at (800) 792-0212. We will dispatch a technician to stabilize and secure your structure from further damage.
How long will the process take?
Every fire repair project will be unique within it's scope of repair. Our technician can give you an estimate during the property inspection.
What is my next step after a house fire?
Contact us to have the property boarded-up and secured to prevent looting and additional damage. We will also begin the drying process to minimize water damage.
Address
2208 Midwest Rd, Suite 105
Oak Brook, IL 60523

811 East Washington Ave, Ste 400 #0040 Madison, WI 53703
Emergency (24/7)
Toll Free: (800) 792-0212