Roof Repair Evanston
Quality local roof repair and replacement services in Evanston, IL.

Ensure the Success of Your Roof Repair with Our Trusted Team
Roof repair in Evanston with products made in the U.S.A.
Evanston roof repair
When it comes to roof repair, you want to trust the team that is handling it. At AES, we have built a reputation for trusted roof repair in Evanston, IL.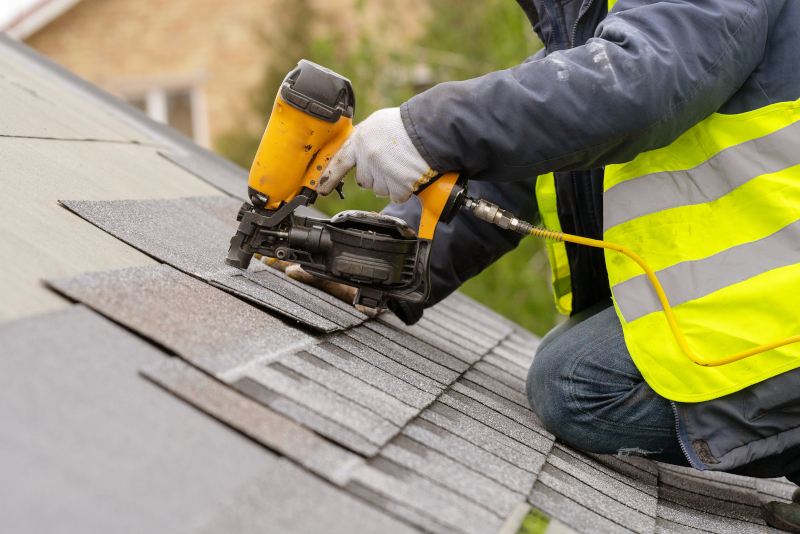 Evanston roofing professionals
Our team is dedicated to delivering exceptional roof repair, replacement, and maintenance services to property owners and managers in Evanston. Don't take chances with your roofing project – choose the team you can trust at AES.

Looking for a reliable roof repair in Evanston?
Contact us today to schedule your free roof inspection and start turning your home into the beautiful, dream property you've always wanted.
Request a Quote Now!
Frequently Asked Questions
How can I tell if my roof in Evanston, IL needs repairs?
Homeowners should look out for common signs of roof damage such as missing or damaged shingles, leaks in the attic or interior of the home, and dark spots or discoloration on the ceiling. A professional roofing inspection can also help determine if repairs are needed.
What are the most common causes of roof damage in Evanston, IL?

The most common causes of roof damage in Evanston, IL include exposure to extreme weather conditions such as heavy rain or snow, exposure to high winds, and poor maintenance. Age and lack of proper installation also contribute to the damage.
How can I ensure that my roof repair in Evanston, IL will last?
To ensure that your roof repair will last, it's essential to hire a reputable and experienced roofing contractor who uses quality materials and proper installation techniques. Regular maintenance and inspections can also help to extend the life of your roof repair and identify issues before they become major problems.

Can I repair my roof in Evanston, IL during winter?
Roof repairs can be done during the winter in Evanston, IL. However, it can be challenging due to the cold temperatures, snow, and ice. Some materials, such as sealants, can become brittle in cold weather, making it difficult to repair or seal effectively. It is best to consult with a professional roofing contractor, they will be able to assess the situation and advise on the best course of action for your specific needs
Address
Allied Emergency Services, INC
License Number: 104.019029
2208 Midwest Rd, Suite 105
Oak Brook, IL 60523

811 East Washington Ave, Ste 400 #0040 Madison, WI 53703
Emergency (24/7)
Toll Free: (800) 792-0212