Roof Repair Northbrook
Quality local roof repair and replacement services in Northbrook, IL.

Ensure the Success of Your Roof Repair with Our Trusted Team
Roof repair in Northbrook with products made in the U.S.A.
Northbrook roof repair
When it comes to roof repair, you want to trust the team that is handling it. At AES, we have built a reputation for trusted roof repair in Northbrook, IL.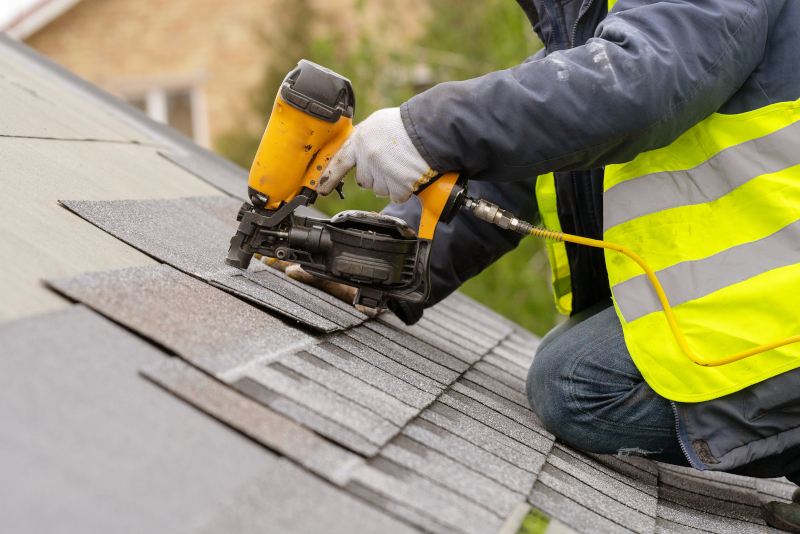 Northbrook roofing professionals
Our team is dedicated to delivering exceptional roof repair, replacement, and maintenance services to property owners and managers in Northbrook. Don't take chances with your roofing project – choose the team you can trust at AES.

Looking for a reliable roof repair in Northbrook?
Contact us today to schedule your free roof inspection and start turning your home into the beautiful, dream property you've always wanted.
Request a Quote Now!
Frequently Asked Questions
How do I know if my roof in Northbrook, IL needs repairs?
Signs that your roof may need repairs in Northbrook, IL include missing or damaged shingles, cracked or curled shingles, water stains on the ceiling, leaks in the attic, or dark spots on the ceiling. If you notice any of these signs, it's important to schedule a professional roofing inspection to determine if repairs are necessary.
What are the most common causes of roof damage in Northbrook, IL?

Common causes of roof damage in Northbrook, IL can include severe weather conditions such as high winds, heavy rainfall, and snowfall, as well as wear and tear caused by aging and exposure to the elements. Other common causes can include poor installation, lack of proper maintenance and neglecting small repairs.
Are there any options for a more energy-efficient roof in Northbrook, IL?
Yes, there are options for a more energy-efficient roof in Northbrook, IL, such as reflective roof coatings, solar-reflective shingles, and green roofing options. These options can help to reduce the amount of heat absorbed by your roof, which can lower your energy bills and help you save money on heating and cooling costs.

How can I prolong the life of my roof in Northbrook, IL?
You can prolong the life of your roof in Northbrook, IL by maintaining it properly. This includes regular cleaning of gutters, inspecting for damage, and checking for proper ventilation. You should also schedule regular inspections and maintenance with a professional roofing contractor, like AES.
Address
Allied Emergency Services, INC
License Number: 104.019029
2208 Midwest Rd, Suite 105
Oak Brook, IL 60523

811 East Washington Ave, Ste 400 #0040 Madison, WI 53703
Emergency (24/7)
Toll Free: (800) 792-0212