Evanston Roofing Company
Quality local roof repair and replacement services in Evanston, IL.

Our trusted team ensures your roofing project's success
Roof replacement in Evanston with products made in the U.S.A.
Evanston roofing services
We specialize in re-roofing, roof repairs, restoration and roof management solutions for Evanston residents.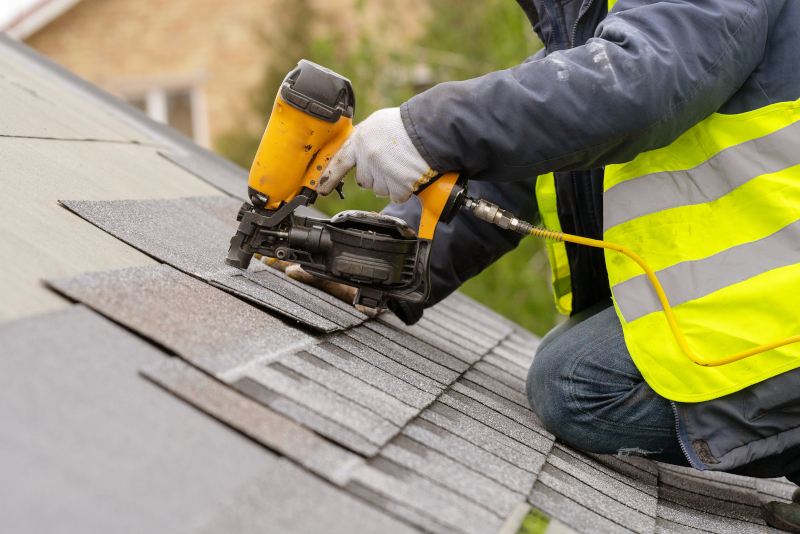 Evanston roofing professionals
Our team is dedicated to delivering exceptional roof repair, replacement, and maintenance services to property owners and managers in Evanston.

Looking for a reliable Evanston roofing company?
Contact us today to schedule your free roof inspection and start turning your home into the beautiful, dream property you've always wanted.
Request a Quote Now!
Frequently Asked Questions
How do I apply for a roofing permit in Evanston, IL?
To apply for a roofing permit in Evanston, you must first establish a user account and then submit a permit application through the Citizens Portal link on the Building & Inspection Services website page. You will also need to provide trade contractor and project worksheets, a copy of the project contract that shows the construction valuation/project cost, and emergency contact information. AES will apply for all permits.
What are the fees for a roofing permit in Evanston?

Roofing permit fees in Evanston are based on construction valuation, plan review, and mechanical, electrical, and plumbing worksheets.
What are the consequences for completing roofing work without a permit in Evanston?
It is illegal to complete roofing work without a permit in Evanston. If you are caught doing so, a stop work order will be posted on your property until you obtain the necessary permit. You may also be subject to a penalty of either 75% of the permit fee or $250, whichever is greater.

What codes and regulations does the City of Evanston follow for roofing work?
The City of Evanston follows the International Building Code (IBC), International Residential Code for One and Two Family Dwellings (IRC), National Electrical Code (NEC), International Mechanical Code (IMC), International Fuel Gas Code (IFGC), International Fire Code (IFC), Illinois Plumbing Code, Illinois Accessibility Code, and Illinois Energy Conservation Code (IECC) for roofing work. These codes ensure that all roofing work is completed in a safe and satisfactory manner. It is important to familiarize yourself with these codes and any amendments that may be in place before starting any roofing work in Evanston.
Address
Allied Emergency Services, INC
License Number: 104.019029
2208 Midwest Rd, Suite 105
Oak Brook, IL 60523

811 East Washington Ave, Ste 400 #0040 Madison, WI 53703
Emergency (24/7)
Toll Free: (800) 792-0212