Winnetka Roofing Company
Quality local roof repair and replacement services in Winnetka, IL.

Ensure the Success of Your Roofing Project with Our Trusted Team
Roof replacement in Winnetka with products made in the U.S.A.
Winnetka roof replacement
When it comes to your roofing project, you want to trust the team that is handling it. At AES, we have built a reputation as a trusted roofing company in Winnetka, IL.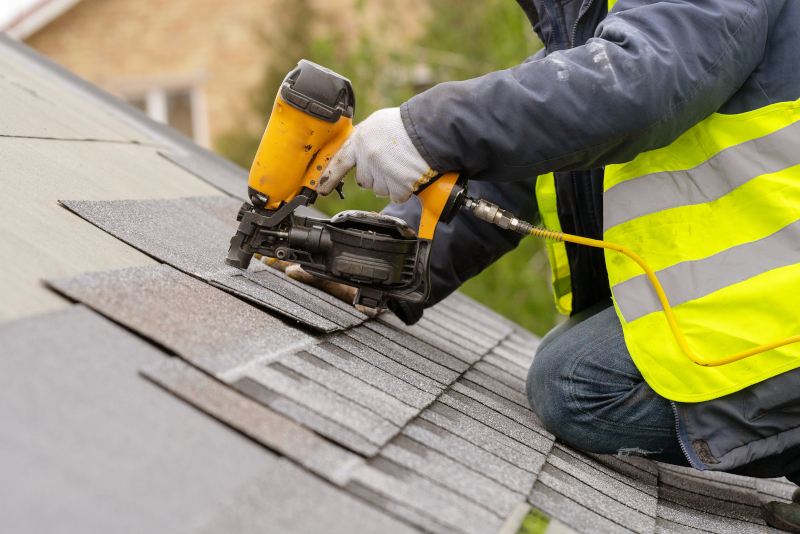 Winnetka roofing professionals
Our team is dedicated to delivering exceptional roof repair, replacement, and maintenance services to property owners and managers in Winnetka. Don't take chances with your roofing project – choose the team you can trust at AES.

Looking for a reliable Winnetka roofing company?
Contact us today to schedule your free roof inspection and start turning your home into the beautiful, dream property you've always wanted.
Request a Quote Now!
Frequently Asked Questions
Do I need a permit to replace my roof in Winnetka, IL?
Yes, a permit is required for all roof replacements in Winnetka.
What forms and documents do I need to submit in order to obtain a roof replacement permit in Winnetka?

You will need to submit a Building Permit Application, as well as a written description of the scope and specifications of the work or a copy of the signed contract. If the roof replacement is for a commercial property, you will also need to provide a sample of the material to be used (color and style). AES will handle all permit applications.
What codes does the Village of Winnetka follow for roof replacements?
The Village of Winnetka follows the 2015 International Residential Code (IRC) for One- and Two-Family Dwellings, as well as the 2015 International Swimming Pool and Spa Code (SPSC), the 2015 International Building Code (IBC), the 2015 International Existing Building Code (IEBC), the 2015 International Fire Code (IFC), the 2015 International Fuel Gas Code (IFGC), the 2015 International Mechanical Code (IMC), and the 2015 International Property Maintenance Code (IPMC). The Village also follows the Illinois Energy Conservation Code (current edition - 2018) and the Illinois Plumbing Code (current edition).

Are there any specific requirements for the materials or techniques used in a roof replacement in Winnetka?
Cedar shingles must be Class C or better. Ice and water shield are required from the eave's edge to a point at least 24 inches inside of the exterior wall line of the building. A drip edge must be provided at eaves and rake edges of shingle roofs. For asphalt shingle roofs with slopes from 2:12 units horizontally up to 4:12 units, underlayment must be applied in 2 layers. Exterior gutters and downspouts discharging onto splash blocks are required on attached and detached single-family buildings, with gutter downspouts discharging at the rear of the house and at the front of the house a minimum of 3 feet from any property line. Flashing must be applied to prevent the entry of water into the wall cavity or penetration of water to the building structural framing components, including flashing at the intersection of walls and chimneys
Address
Allied Emergency Services, INC
License Number: 104.019029
2208 Midwest Rd, Suite 105
Oak Brook, IL 60523

811 East Washington Ave, Ste 400 #0040 Madison, WI 53703
Emergency (24/7)
Toll Free: (800) 792-0212